Advice
Assisted Living, Independent Living
Assisted Living vs. Independent Living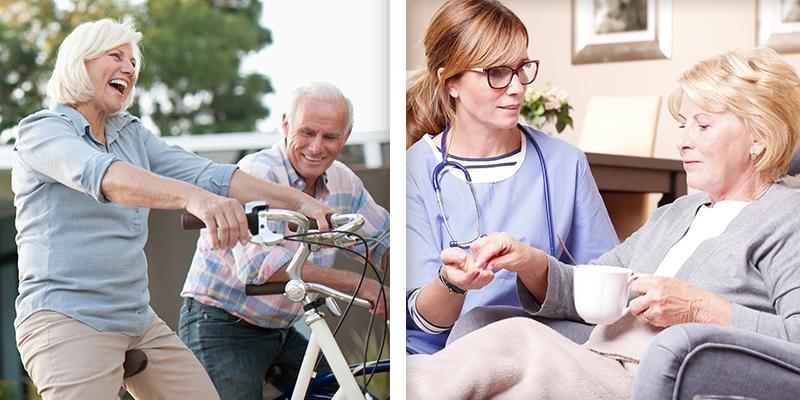 Anyone unfamiliar with the options of senior living can find the nuances baffling. For instance, assisted living and independent living are two of the most common senior living alternatives available, but people often confuse them. It's easy to see why, as there are many similarities.
A new resident moving into either independent living or assisted living would find their social circle expanding, as they're surrounded by other seniors likely to become new friends. They would also find a variety of activities designed to promote increased physical and cognitive functioning and a wide array of amenities.
Levels of Care
The key difference between independent and assisted living comes down to the level of care provided. Senior care exists on a continuum. Independent living is the least assistive option. One step above independent living is assisted living. Assisted living, as the name implies, offers assistive services and support.
Independent living is designed for seniors who are capable of living by themselves. It's ideal for seniors who may find the responsibilities of homeownership becoming too much of a chore. In a retirement community, there's no need to worry about cleaning out the gutters, mowing the lawn, fixing the leaky faucet or replacing the furnace, as these are covered by the community. Independent living communities go by a variety of names. You may also see them referred to as retirement communities, active adult communities, or 55+ communities. You may also hear the term Life Plan Community or CCRC (Continuing Care Retirement Community) and synonymous terms referring to a community that offers independent living and the full continuum of care, which includes assisted living and skilled nursing care.
Independent living typically offers:
Housekeeping
Landscaping
Meal Preparation
Social activities and events
Transportation
Wellness programs
Security services
Assisted living is mainly designed for seniors who are unable to live safely on their own. These seniors may need extra help when it comes to the activities of daily living such as bathing, eating and dressing, among other things. Residents in a stand-alone assisted living facility can't expect extensive care, since a skilled nursing staff probably isn't available there, at least not on a 24/7 basis.
An assisted living facility generally offers:
Transportation services
Housekeeping
Wellness programs
Social activities and events
Medication management
Assistance with daily living – dressing, bathing, eating, etc.
Beyond the distinction between the levels of care being provided, there are some other differences between the independent living and assisted living that distinguish them.
Living Spaces
The independent living category covers a wide range of housing options, from apartment-style communities to housing co-ops. Generally, though, residents live in a private residence and have access to common areas where they can socialize with other community members. As this arrangement is designed for seniors who still live independently, the features and amenities in the individual dwelling areas are comparable to those in a typical small home, townhouse or apartment.
The typical assisted living arrangement is apartment-style. Some residences may feature kitchenettes. Residents have easy access to services such as dining, social activities, on-site salons and transportation.
Amenities and Care Services
The goal of independent living is to make residents' daily lives easier with services aimed at minimizing seniors' daily responsibilities, not assisting with activities of daily living. The independent living lifestyle provides the freedom for each resident to do what makes them happy while living in a safe environment.
As with independent living, assisted living provides excellent opportunities to socialize. Residents commonly meet for exercise classes, support groups, card games, field trips and movie nights. Of course, there's no need to deal with the maintenance and repair needs of home ownership. The community also provides transportation services for shuttling residents to and from doctor appointments, the grocery store and other errands.
Staff members, including at least one medical professional, are on call 24/7 in most communities. This is typically a certified nursing assistant, but the best communities will have a registered nurse available. However, assisted living communities don't provide intensive hands-on care or skilled nursing care for older adults with serious mental or physical ailments.
Ways to Pay
Besides the difference in the levels of care these residential settings provide, another key difference between independent and assisted living is the financial resources that seniors and their families can use to cover the cost of living in these communities.
Because most independent living communities don't provide residents with medical services, Medicare, Medicaid, long-term care insurance and other financial aid programs generally won't cover the cost. Instead, seniors must pay privately, using funds from Social Security benefits, pension income, retirement savings, life settlements, reverse mortgage funds, annuities and other personal funds.
Since assisted living communities provide a greater amount of assistance, there are more options available for helping to cover costs. Residents can pay by using savings, and the personal funds listed above, as well as certain long-term care insurance policies and Aid and Attendance benefits from the U.S. Department of Veterans Affairs. Medicare doesn't cover assisted living, but Medicaid offers some financial assistance for low-income seniors. Medicaid eligibility and coverage rules vary from state to state.
Today's seniors have access to more types of care than ever. For many, CCRCs are the ideal living situation. At Meadow Ridge, our LifeCare® program is your assurance that in addition to independent living, if your needs ever change, you'll receive the assisted living, rehabilitation or skilled nursing services you need right here on our campus.